TT Order Types overview
TT Order Types provide order execution functionality beyond those natively supported by exchanges. The following is a list of TT Order Types:
TT Bracket
TT Iceberg
TT If-Touched
TT OBV
TT OCO
TT Retry
TT Stop
TT Time Sliced
TT Timed
TT Trailing Limit
TT With A Tick
TT OCO Order Management Algo (OMA)
When submitting a TT Order Type order, a synthetic order is created which runs on the algo server. This parent order submits and manages child orders into the market.
Note: If you specify a TIF (time-in-force) for the child orders that the exchange does not support, the parent order will be immediately rejected instead of when the first child order is submitted.
When filled, a synthetic parent fill is reported ​for every native child order fill.
Accessing TT Order Types
You can access TT Order Types in two ways.
When submitting new orders, you can select a TT Order Type from the Order Type drop-down in the MD Trader or Order Ticket widgets.

When managing working orders from an Order Book or Floating Order Book widget, you can launch an OMA for selected orders and choose the desired TT Order Type from the Public Algos section.
TT Order Type parameters
Each TT Order Type displays a fly-out with its associated parameters when selected as the order type. You can use the system default values or adjust them as desired.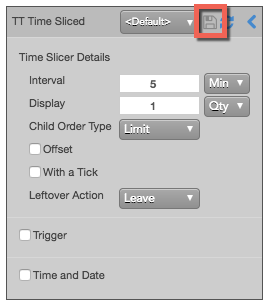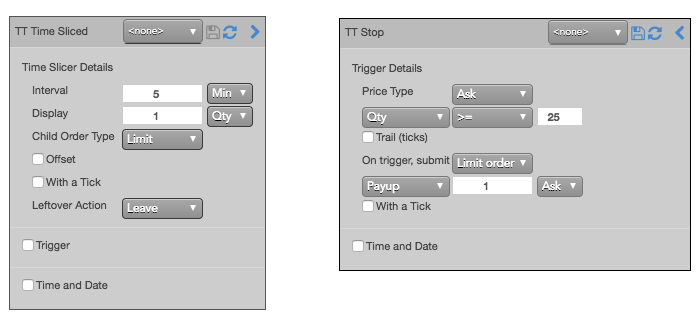 Order templates
For each TT Order Type, you can save frequently-used sets of parameters by creating order templates. These templates can be selected from the drop-down to populate the order parameter fields with the saved values.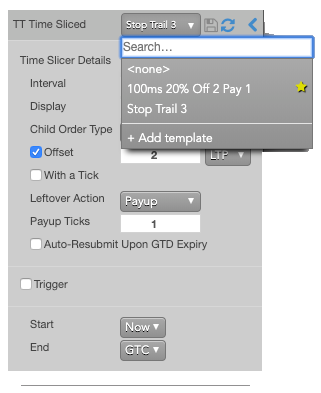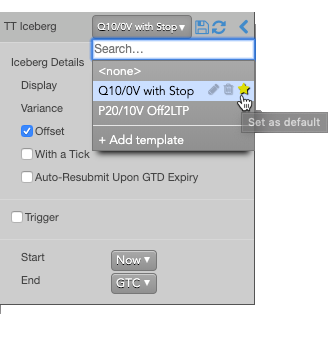 The template drop-down menu also lets you specify a default template (indicated by the yellow star) that will appear pre-selected every time you select the associated TT Order Type.. You can revert to the default system settings by selecting the <Default> option.