Market Explorer overview
The Trade application provides you with the capability to quickly find instruments and trade them in your workspace. After creating and opening a workspace, you can use the Market Explorer in Basic mode or Advanced mode to find an instrument and open a widget. You can also drag instruments from the Market Explorer to add them to existing widgets.
Market Explorer Basic
Market Explorer opens in Basic mode as shown when you click Explore on the TT menu bar.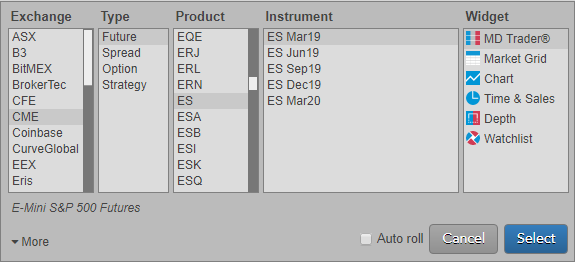 The following fields are available in Basic mode:
Exchange — Shows the exchanges available to trade on TT.
Type — Shows the product types natively supported by an exchange.
Product — Displays the products available at an exchange.
Instrument — Displays the tradeable instruments per exchange, product type, and product.
Widget — Shows the widgets available per instrument.
Market Explorer Advanced
In addition to Basic mode, the Advanced mode allows you to easily find options instruments, exchange-defined spreads, and strategy instruments without using a contextual search. In Advanced mode, you can filter futures, options, spread, and strategy products by product family, expiry, spread type, strike, or Call/Put to select an instrument and open a widget.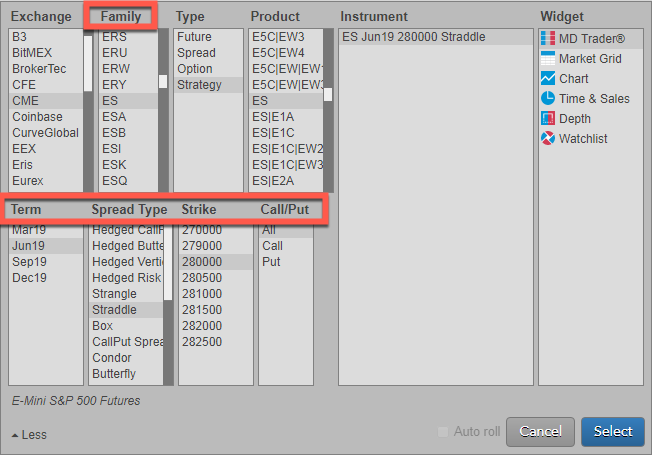 Click More in Basic Mode to show the following additional fields in Advanced mode:
Family — Shows all options with a shared underlying futures symbol.
Term — Displays each expiry for a product.
Spread Type — Shows the exchange-defined spreads or strategies based on the product type and product.
Strike — Displays the underlying strike prices for each option or strategy product.
Call/Put — Allows you to filter options or strategy instruments by Call, Put, or both (All).
Drag-and-drop support
In addition to opening new widgets for instruments, you can also drag instruments from Market Explorer to widgets already opened in the workspace.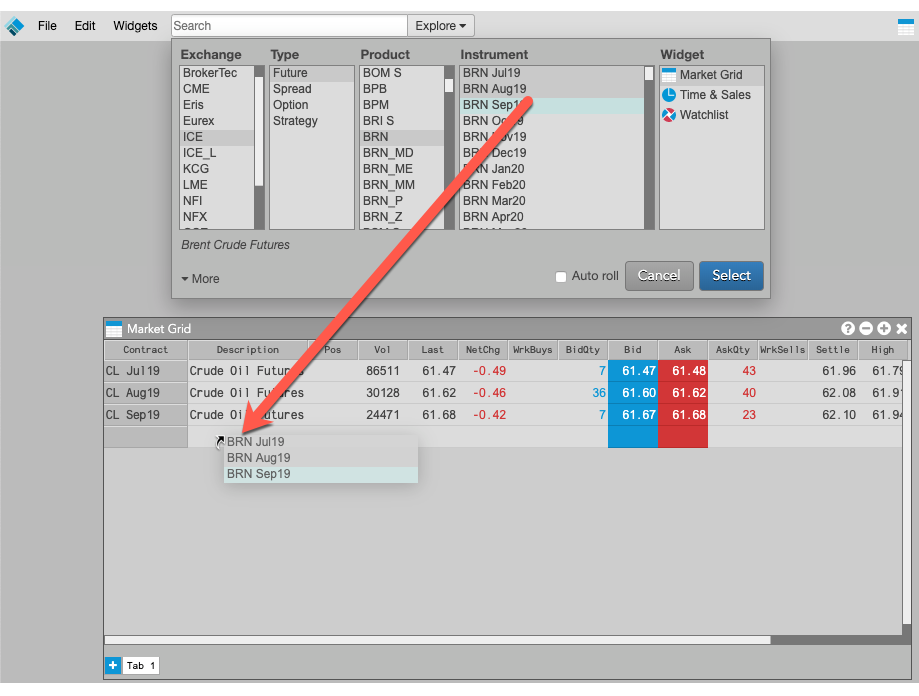 The following widgets support drag-and-drop from Market Explorer:
Market Data Agreements
After selecting an instrument, you may be prompted to accept a market data agreement from the exchange. If one is required, the Market Data Agreement widget will open in your workspace. Scroll through the agreement to read it, enter your name, select a date and click Accept. The agreement will appear in the Users | Agreements tab for your username in Setup.