Time & Sales overview
The Time & Sales widget displays all real-time and historical trades that occur for selected instruments and provides details for each trade including date, time, price, and quantity. Each trade is color-coded to indicate whether the trade was a result of an aggressive buyer or seller. You can configure each Time & Sales widget to display one or more instruments on one or more exchanges, and you can specify quantities to only display and highlight trades of a minimum size.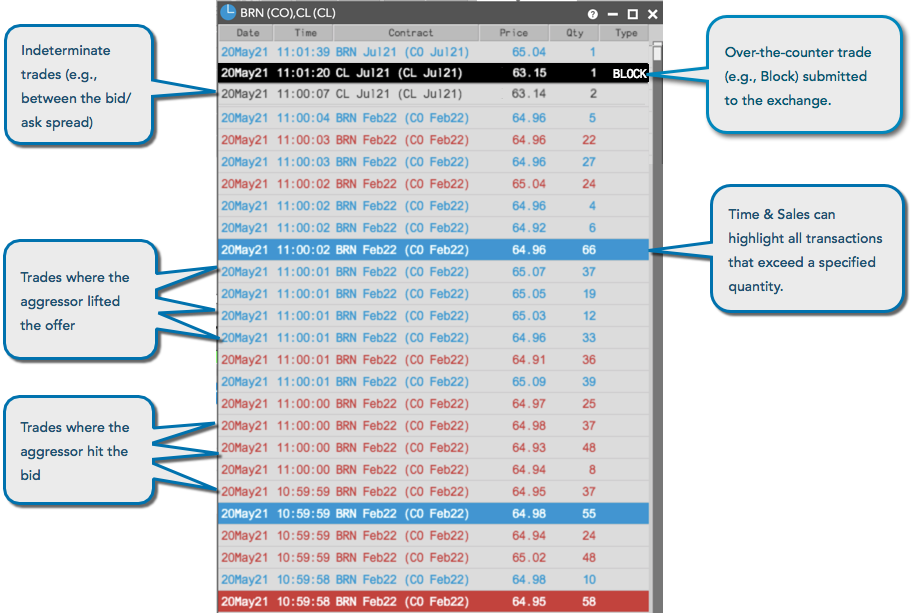 Time & Sales Data
The Time & Sales widget keeps a running record of trades for selected instruments displayed in reverse chronological order.
Note: Users can access historical Time & Sales data by scrolling to the bottom of the widget screen. The Time & Sales widget on TT maintains and displays a history of trade data from all of your sessions and not just for the current session.
Each new entry is added to the top of the list, causing the widget screen to auto-scroll downward.
If you manually scroll through the list to review older data, auto-scroll turns off.
A red line at the top of the widget screen indicates you can scroll up to view additional information.
To return to auto-scrolling, scroll to the top of the widget screen.
The Qty filter also lets you configure the widget to display only trades whose quantities meet minimum and/or maximum values. The following example shows only trades with quantities between 5 and 20.