Menu
You can tap the list icon from any screen to go to the TT Mobile Android main menu. On the main menu, you can access all the functionality currently supported by TT Mobile Android.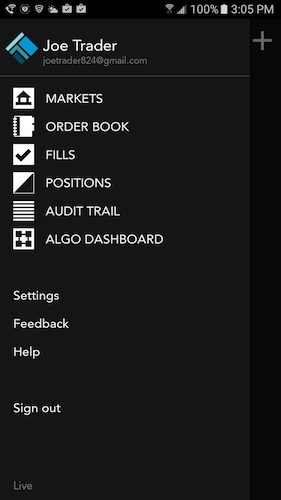 Tap each item on the main menu to do the following:
MARKETS: View market data for instruments that have been added to the Markets display and place trades on any of those instruments for which trading is enabled.
ORDER BOOK: View, change, or delete your working orders.
FILLS -- View fills for current and previous trading sessions.
POSITIONS: View your P&L and position per account or instrument.
AUDIT TRAIL: View a historical record of your trading activity.
Settings: Set your global settings, including trade permissions, accounts, and global order defaults.
Feedback -- Send us your feedback.
Sign Out -- Log out of your current trading session on TT Mobile Android.