TT Access Overview
In order to maximize performance and provide the lowest possible latency for market data and order execution, the TT platform architecture separates latency-sensitive traffic (market data and order actions) from less latency-sensitive traffic:
Less latency-sensitive traffic is routed to the TT platform services hosted in TT Cloud and is sent over the Internet.
Latency-sensitive traffic is routed to servers in TT data centers co-located with the exchanges and is sent using one of the following connectivity options:

Internet
Extranet Private Lines
Direct Connect

Note: For all connectivity options, a DNS server and Internet connection are required at the client network site.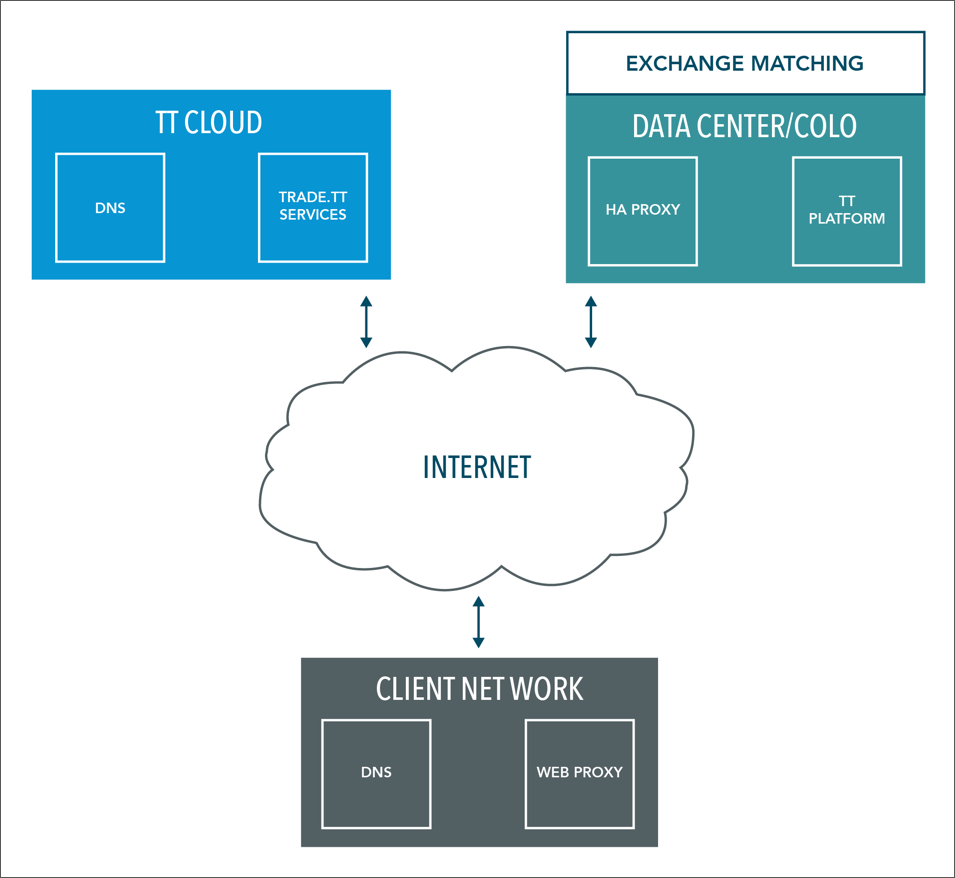 For more information regarding your connectivity options, contact the TT Onboarding Group at tt-onboarding@tradingtechnologies.com.
Connecting to TT
Users must first access the TT platform by logging in to TT Cloud via their web browser at their client network site. After a connection is made to *trade.tt in TT Cloud via the Internet and the *trade.tt services (Trade, Setup, etc.) are downloaded to the user's browser, the Trade application looks for the ideal data center connection using a "hunt list" of IP addresses and URLs (e.g., *cc.trade.tt) available for the user's company in the Setup application.
First, the Trade application will look for direct connect or private lines URLs. If no private line or direct connection types are available in Setup, the Trade application will connect to the data center via the Internet.
A DNS lookup is made for each URL to resolve the corresponding IP address. The Trade application attempts to connect at each IP address until an acknowledgment is received and an optimal connection is made to an Edge Server via the HA Proxy in the nearest co-located TT data center.