TT® OMS Administration Overview
As an administrator, you can use Setup to enable TT® OMS for users in your company and configure account-level settings and order permissions in support of this functionality.
Note: Before enabling TT OMS features for users, the functionality must be enabled for your company by TT administrators. Contact your Customer Success manager to enable access to these features.
TT OMS Service Models
As part of enabling TT OMS for your company, TT provides different levels of service depending on your firm's service model request. Your company can request either the Enterprise Model or User Model.
The Enterprise Model lets companies select which OMS features to provide to their OMS-enabled users. Each user gets the same level of service. The following service options are available:
The enterprise service options and regions enabled/disabled by TT can be viewed on the Company Settings | Settings tab.
The User Model lets company administrators choose the level of service on a per user basis. Each user can be provided with different levels of service. After enabling OMS for the user, you can select the following service options:
The Company Settings | Settings tab shows that the user-level model is enabled for your company.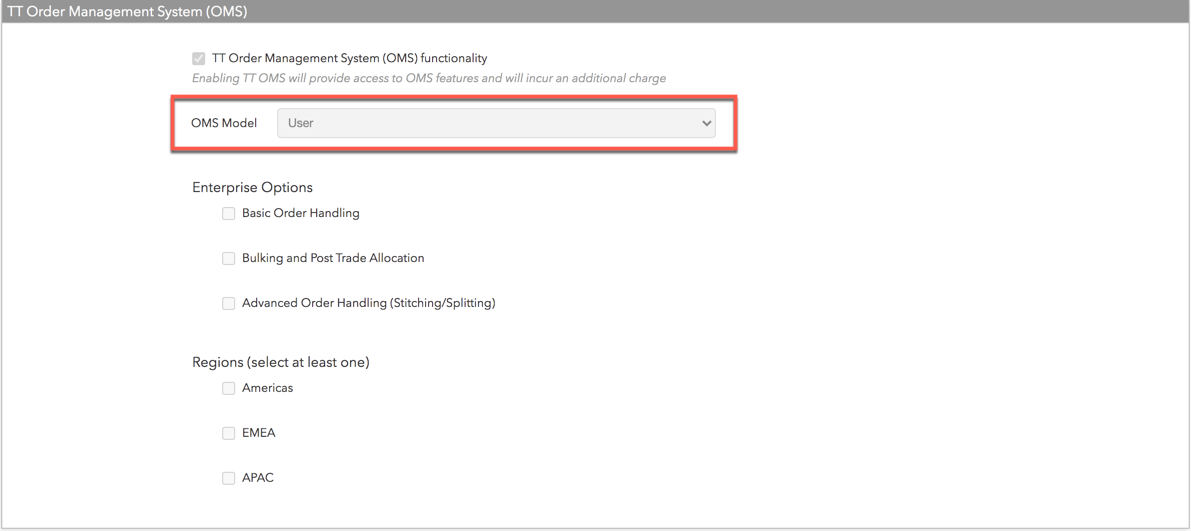 Note: After a service model is enabled, go to the Users | Settings tab to enable OMS access per user.
TT OMS user access
User access is provideds by checking the OMS Allowed checkbox in the TT Order Management System (OMS) section on the Users | Settings tab. For more details, refer to Enabling TT OMS for users.
Note: Enabling these features incurs an additional charge upon user login.

TT OMS account settings
OMS account settings are provided in the Order Management System (OMS) Settings section of the Accounts | Settings tab. These settings control how care orders are combined in the account and when fills are allocated and reported back to your customers.

To configure OMS settings for an existing account, refer to Configuring TT OMS account settings. These settings can also be added as part of creating a new account in your company.
Care order permissions
User and account care order (also known as staged order) permissions are configured on the Account | Users or Users | Accounts tab when adding or modifying accounts and users in your company. These permissions control how users can claim, manage, and fill care orders.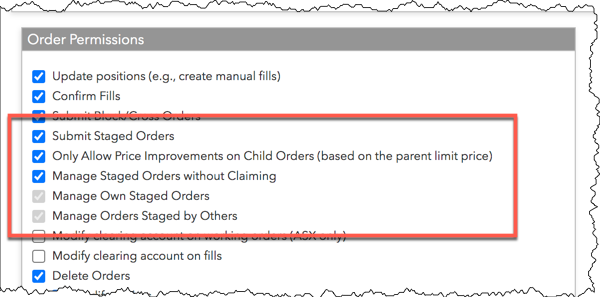 To configure care order permissions for an account or user, refer to Configuring care order permissions.