Order Profiles
In addition to the Order Tag Default profiles set up by a risk administrator, Trade application users can create their own order profiles for submitting orders. Order profiles can be created using the Order Profiles widget, which includes default settings that seed order entry widgets on TT.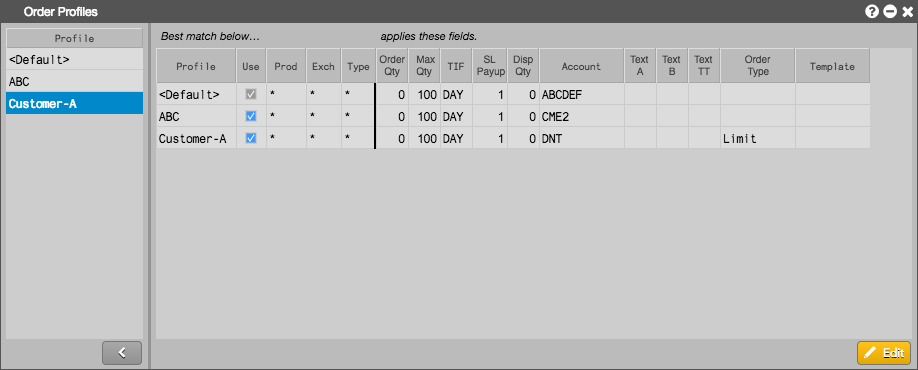 Users select which order profiles are active in the Order Profiles widget. When a user submits an order with active order profiles, the Trade application looks for a best match profile based on product, exchange, and product type, and seeds the user's order entry widget based on the profile settings.
To open the widget, click Edit in the workspace tool bar and select Order Profiles...

MiFID II Support
If MiFID II tags have been configured for a given profile in Setup by your risk administrator, then that profile name will appear in the left pane of Order Profiles. If the user chooses that profile when trading, then the applicable MiIFD II tags from Setup, along with any relevant tags or settings that the trader may have configured for the profile, will be applied.
Creating an order profile
Note: User-defined order profile settings cannot conflict with the Order Tag Defaults set for a profile by a risk administrator in Setup.
After you open an Order Profiles widget, click Edit.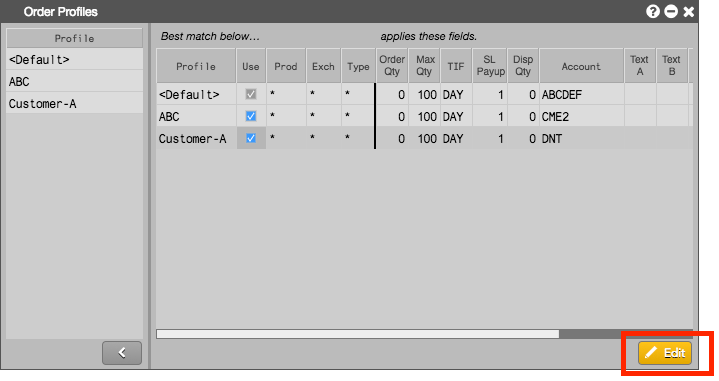 To add a profile to the widget, click Add Profile, enter a name for the new profile, and hit the Enter key.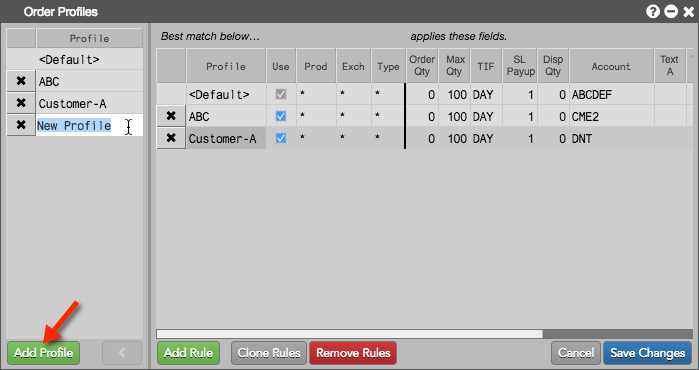 To add a rule to an order profile, click Add Rule to display a new row. Click each field in the row to add a value for the rule. In the Profile column, use the default name or enter the name of a profile. Check the Use column to allow Trade to find the profile when looking for a best match when submitting an order.