TT Accounts
To access the TT platform, you have to create a TT account (TT ID). A TT account provides you with access to all applications available within the TT platform, and allows you to trade in the demo environment or in the live production environment.
In order to trade in production, you will need to register your TT account with your trading or clearing firm by joining a "company" in the TT system. In TT, a "company" represents an actual company (e.g, FCM, investment firm, etc.) or division of a company of which you are a member or employee. If you do not join a company, you'll only have access to TT Demo via your TT account.
After contacting your firm or sponsoring company, their company administrator will add you as a user in the TT system and assign a trading account to you with an active connection to the markets that you want to trade. When your setup is complete, you'll be able to trade in the production environment after accepting the company invitation via email.
TT Account Settings
After you create a TT account and log in to the platform, you can modify the options and settings on your account. You can access your TT account settings by clicking your account name in the title bar of any TT application. The tabs on the TT account settings page allow you to modify your profile, configure account security options, and view your TT account history.
Profile
You can update your name, company, and email address from the Profile section.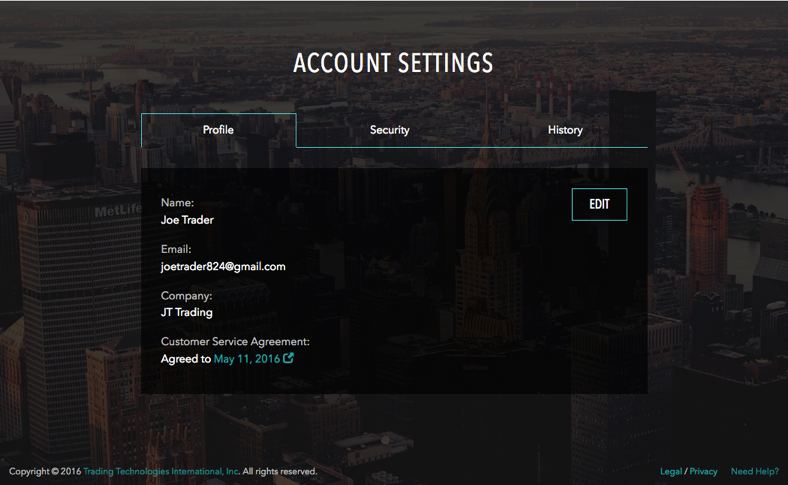 TT account security and two-step verification
You can choose whether to use added login protection from the Security section. You can enable two-step verification and change your password.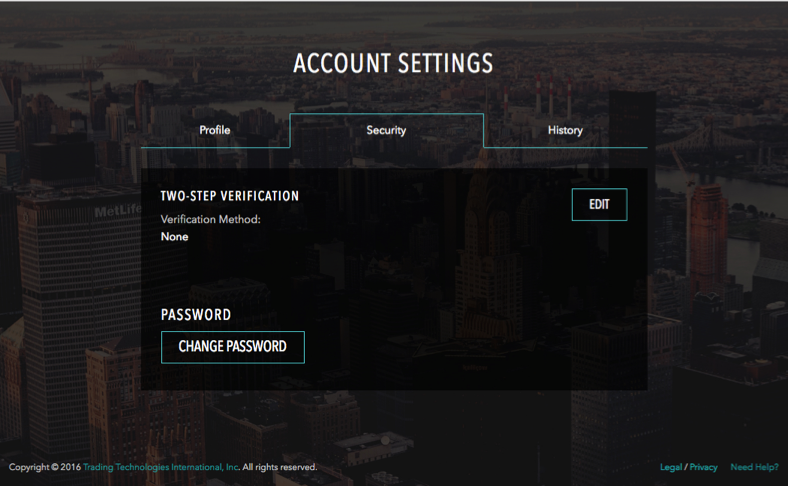 TT account history
TT records all of the login attempts and account-related activity for your TT account. You can use the History section to review the information. If you see any suspicious activity, you should contact TT Support immediately.