Exchange-specific order entry features
An Order Ticket exposes some additional buttons to support exchange-specific order functionality.
ICE, Eurex, and EEX
The ICE, Eurex, and EEX exchanges allow you to indicate whether an order opens or closes a position. To support this functionality for these exchanges, an Order Ticket displays an Open/Close toggle button, as shown: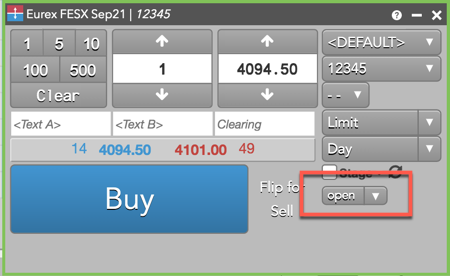 MiFID II exchanges
For exchanges that need to comply with the MiFID II regulations, the Show order entry compliance fields setting in the Orders section of Preferences can be enabled to add compliance fields to the Order Ticket.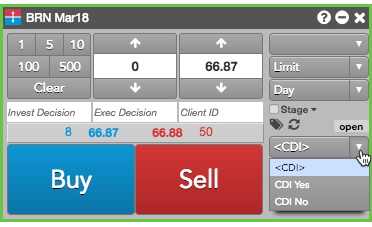 The items added include:
CDI (Commodity Derivative Indicator) dropdown that lets a user report whether a trade is reducing risk, also referred to as a hedging trade. The dropdown supports the following choices:

<CDI>: Use the value defined in Setup.
CDI Yes: This order is a hedging trade.
CDI No: This order is not a hedging trade.

Invest Decision field for the short code identifying who made the trading decision.
Exec Decision field for the short code identifying who or what algo is submitting the order.
Client ID field for the short code identifying the customer.
If specified, these values override the default order profile settings defined in Setup.
BrokerTec
The BrokerTec exchange supports passive and aggressive orders. To support this functionality for BrokerTec orders, an Order Ticket replaces the Buy and Sell buttons with buttons for entering passive or aggressive orders.
Aggressive orders hit or take passive orders in the market. An order is aggressive when a bid is hit or an offer is taken; the order must be on the inside market. Submit aggressive orders using the HIT or TAKE buttons.
Passive orders rest in the market waiting for an aggressive order to hit or take them. An order is passive when a resting bid or offer is placed in the market. Submit passive orders using the BID or OFFER buttons.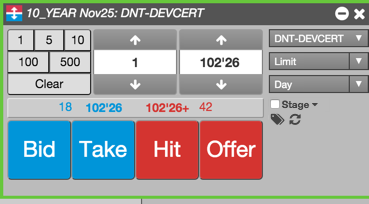 Support of block trades in the Order Ticket
Block trades are high volume trades in any outright or strategy product and arranged by two counterparties outside of the open market.
The Order Ticket supports submitting block trades at the following exchange: EEX.