FIX Ruleset Overview
A FIX Ruleset allows administrators to customize TT FIX for simplifying integration with FIX applications, such as order management and back-office systems.
Click More | FIX Rulesets in the left navigation pane to manage FIX Rulesets for your company.
As an administrator, use the FIX Rulesets tab to configure the following:
Tag Remapping — Remap a tag's value to another tag.
Tag and Message Suppression — Suppress tags or messages that are not recognized by TT FIX or the FIX client application.
Tag Lookup — Define a lookup function to remap a tag's value based on the value in another tag.
Tag Injection — Add one or more tags to any inbound or outbound message(s).
Symbology — Create symbol mappings for converting to and from alternate symbology sets.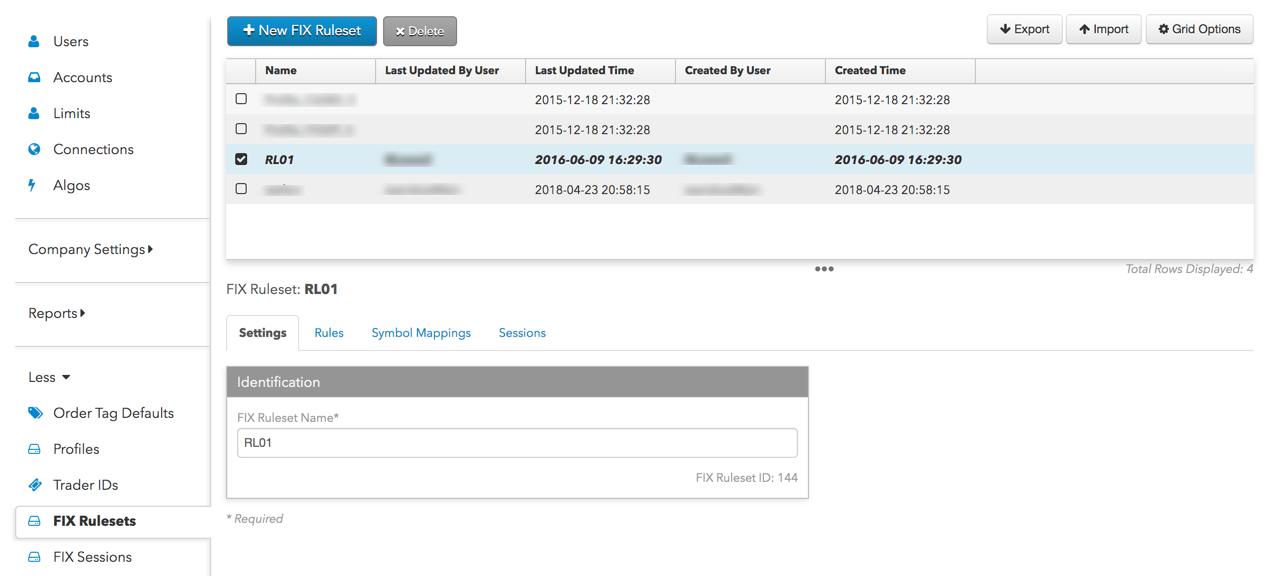 What is a FIX Ruleset?
A FIX Ruleset defines a set of message and tag rules and symbol mappings that specify how to convert messages and tags between TT FIX and FIX clients that use FIX implementations that differ from the TT FIX protocol. A FIX Ruleset allows you to:
Specify how to handle messages or tags that either a FIX client or TT FIX does not support.
Define rules for changing the value of a FIX tag or remapping one tag to another.
Create symbology mappings that convert symbols a FIX client uses to those that TT FIX supports.