Risk Matrix Settings
When you right-click in the widget to open the context menu, the following options are available:
Export as csv — Allows you to export the displayed matrix to a CSV data file. You can export default options risk values or options risk calculated with different scenario adjustments.

Zoom — Allows you to zoom the widget between 50% and 150% percent of the default widget view using a slider control.
Settings: Risk Matrix — Opens the local settings menu.
Local Settings
The local settings affect only the selected Risk Matrix widget. To update the default settings with these values for newly-opened Risk Matrix widgets, or to expose an option to apply them to existing opened widgets, click Save as default.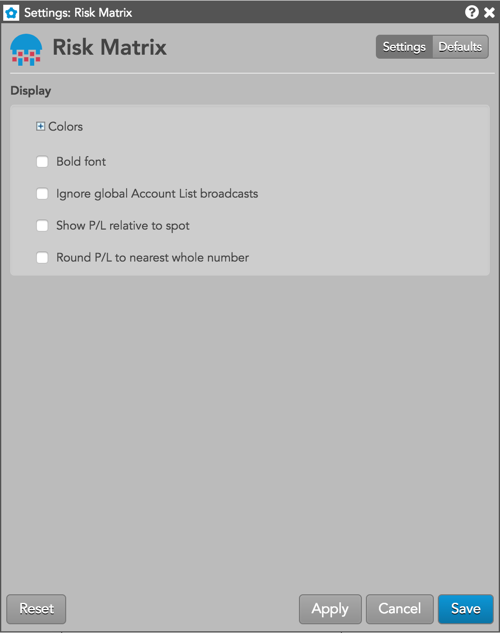 Bold font: Sets whether to use bold font for text.

Ignore global Account List broadcasts — Configures the widget to ignore account selections made in an Account List. When checked (enabled), the widget ignores account selections broadcast by an Account List widget.

Show P/L relative to spot — Displays P/L in each scenario as the positive or negative difference from your current P/L. When enabled, P/L is displayed as "0" in the "0,0" cell (no underlying or volatility adjustment), and displayed in each scenario as the positive or negative difference from the current value (0,0). Impacts P/L output only, and does not affect Greeks or other risk metrics. By default, this setting is unchecked and P/L is displayed for each scenario in the matrix.

Round P/L to nearest whole number — Rounds P/L and Mark to Theo to the nearest whole number.

Colors — Allows you to customize or change the cell and column colors available in the widget.