Depth widget overview
The Depth widget supports viewing detailed or aggregate depth for a single instrument. When displaying detailed depth, the widget also shows counterparty information for exchanges that provide this data on their price feed (e.g., B3).
Note: TT supports detailed depth for the following exchanges: ASX, ATHEX, B3, CFE, CME, CME_BrokerTec, JPX, NASDAQ_NED, NDAQ_EU, OSE, TFEX and SGX.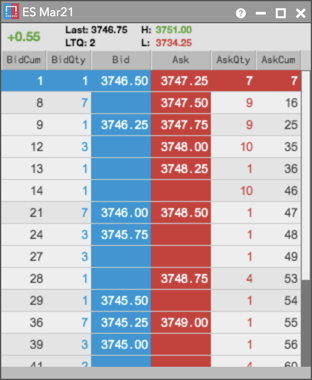 You can open the Depth widget in the following ways:
Click Widgets | Market Views from the workspace menu bar and use the Search box or Market Explorer in the open widget to add an instrument.
Select the Depth widget icon from the instrument search results or Market Explorer using the workspace menu bar.
Right-click an instrument row in Market Grid to open Depth as a stand-alone or linked widget using the context menu.