Order entry from Order Ticket
Order Ticket provides a compact widget for entering orders for a single, pre-selected instrument. From an Order Ticket, you can supply all of the information for an order and easily submit the order by clicking the appropriate action button.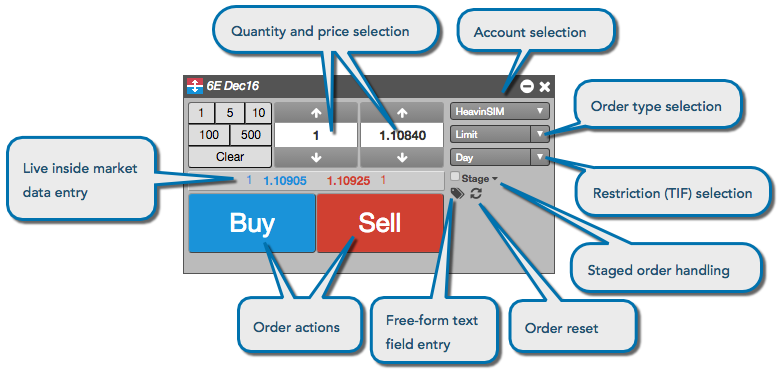 Order types and restrictions
The Order Ticket automatically lists all order types available for the associated instrument. The order types drop-down lists all of the order types natively supported for the instrument by the exchange and the available TT order types you can use. Additionally, if you have created your own algos or are associated with a third-party algo provider, those algos are also displayed as valid order types.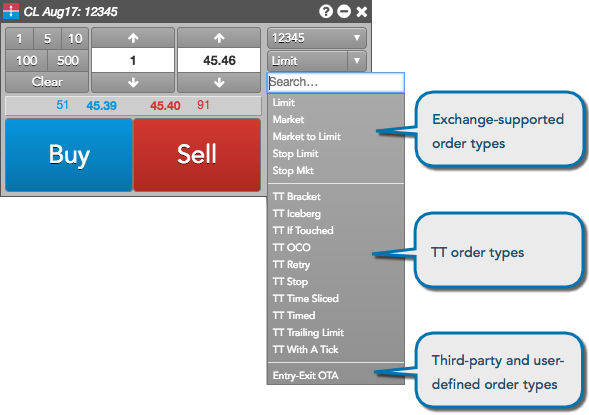 The order restrictions or time-in-force (TIF) options that the exchange supports for the instrument are also automatically listed in the TIF drop-down.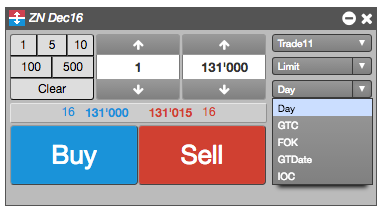 Free-form text fields
Free-form text fields allow you to send optional or additional information with an order.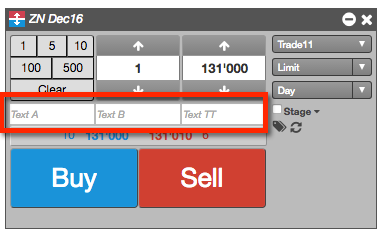 Reset
The reset icon allows you to reset the order ticket to the product defaults displayed when the ticket was opened.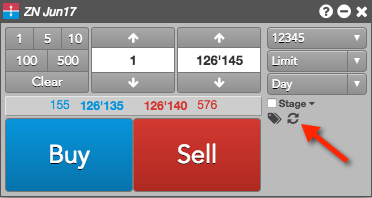 Cross trades support
You can submit cross trades using the Order Ticket window in the Market Grid widget. In the Order Ticket window, the Cross Order Type is only available for exchanges (e.g., EEX) and accounts that support Cross Orders.
Exchanges supporting cross trades
The TT platform supports cross trades at the following exchanges:
Staged order support
Using the Order Ticket, you can stage an order that can be claimed by another user for order management and order execution. If you use the account default functionality, those predefined rules will seed the staged order account based on markets, product types, and specific products.
In TT, a staged order is processed as a synthetic parent order that remains in the system until it is claimed by another user and orders are executed on behalf of the staged order. The parent order is not routed to the exchange.
In addition to required order parameters of buy/sell direction, order quantity, and instrument, the originator can optionally include the following when submitting a staged order:
Price — The submitted price can be changed by the owner if it betters the trade (i.e., buy at a lower price or sell at a higher price).

Instructions — Up to 256 text characters as suggestions on how to work the order.

A full set of detailed order parameters — This can include start and end times, order type selection with filled-in parameters, etc. These may or may not be applied by the owner based on agreement between the originator and the owner.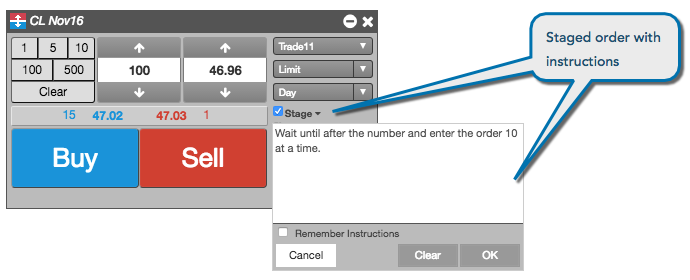 For more information about staged orders, refer to Staged Orders Overview.
Broker mode support
When Broker mode Order Ticket is enabled in the Order Ticket settings, the order ticket display a single buy or sell button based on whether you are entering a bid or ask.