TT Timed order
Timed orders are used to manage a trading day (e.g., exit by market close). For instance, you might want to submit an order as soon as the market opens, or exit a position just before the market closes. Timed order parameters schedule an order's start date and time and/or end date and time and may be included as part of all TT orders.
The following describes the life cycle of a TT Timed order:
An order submitted with a Start Date/Time is in the Waiting state.
When the Start Date/Time is reached, the order goes into the Pending Trigger or Working state.

When the End Date/Time is reached, the Algo Server deletes the parent order and associated child orders. If the trading session is closed when the End Date/Time is reached, the delete request will fail, leaving working GTC child orders on the exchange. It is the user's responsibility to delete these orders when the exchange re‐opens.

Note: Time in Force settings can override the End Date/Time. The Algo Server deletes timed orders when the exchange cancels the order. For example, when the exchange cancels GTD orders at the end of the trading session, the Algo Server deletes the order even if the End Date/Time has not been reached.
For example, suppose you want to submit a Limit order at a price three ticks away from the Last Traded Price that would be canceled if it is not filled by 13:45:00.000 local time. You would specify the following TT Timed order parameters.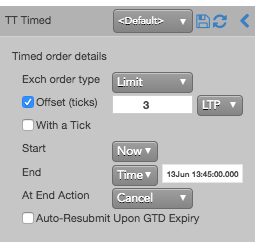 TT Timed order parameters
The following parameters are required: