Time and Sales Reference
Available settings
These settings affect only the selected Time & Sales widget. To update the default settings with these value for newly-opened Time & Sales widgets, or to expose an option to apply them to existing opened widgets, click Save as default.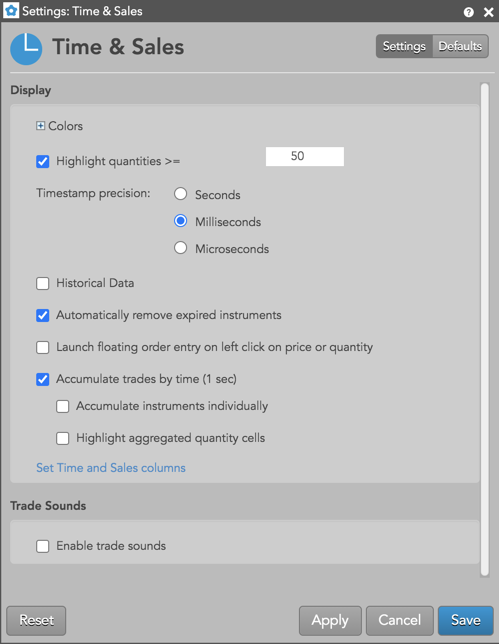 Grid font size: Adjust the font size to suit your preferences and use bold text, if desired.

Colors: Allows you to customize or change the cell and column colors available in the widget.
Highlight quantities >=: Highlight the row when a transaction quantity equals or exceeds this value.
Minimum qty to display: Show only transactions with quantities that meet or exceed this value.
Milliseconds: Check to show millisecond accuracy in the time.
Launch floating order entry on left click on price or quantity.: Check to open the default floating order entry widget when a user clicks on a price or quantity.
Accumulate trades by time (1 sec): Check to accumulate individual traded quantities at the same price level and buy/sell direction into an total traded quantity within the past 1 second interval. Uncheck to display all individual trades as they occur.
Historical Data: Check to include or exclude historical data.

SetTime and Sales columns: Select the columns you want shown in Time & Sales.
Time & Sales column descriptions
| Column | Description |
| --- | --- |
| Date | Date the event took place, based on the current date set on the local workstation. |
| Time | Time the event took place, based on the current time set on the local workstation. |
| Contract | Name of the contract. |
| Price | Buy/Sell price of the product. |
| Quantity | Quantity of the product that was bought/sold. |
| Type | Order type (i.e., Vole, Block, Basis). A unique identifier for OTC trade types is displayed to help differentiate between the different OTC order types. |