Options Risk Matrix Settings
When you right-click in the widget to open the context menu, the following options are available:
Export as csv — Allows you to export the displayed matrix to a CSV data file. You can export default options risk values or options risk calculated with different scenario adjustments.

Zoom — Allows you to zoom the widget between 50% and 150% percent of the default widget view using a slider control.
Settings: Options Risk Matrix — Opens the local settings menu.
Local Settings
The local settings affect only the selected Options Risk Matrix widget. To update the default settings with these values for newly-opened Options Risk Matrix widgets, or to expose an option to apply them to existing opened widgets, click Save as default.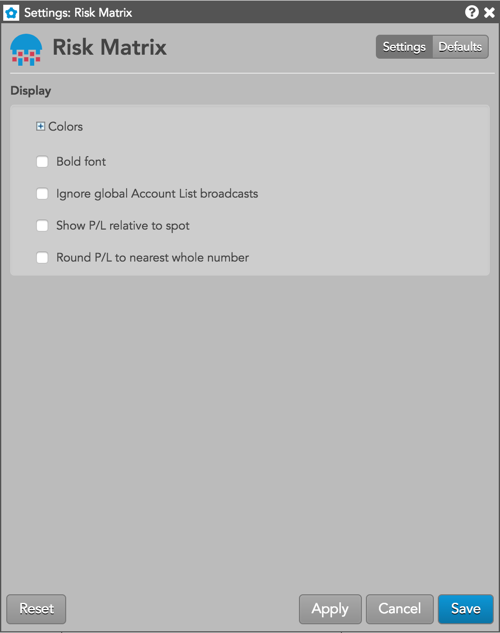 Bold font: Sets whether to use bold font for text.

Ignore global Account List broadcasts — Configures the widget to ignore account selections made in an Account List. When checked (enabled), the widget ignores account selections broadcast by an Account List widget.

Show values relative to spot — Displays the scenario Greek and risk metric outputs as the difference from current values (0,0 adjustment). When this box is unchecked, the scenario outputs are displayed as absolute values.

Colors — Allows you to customize or change the cell and column colors available in the widget.